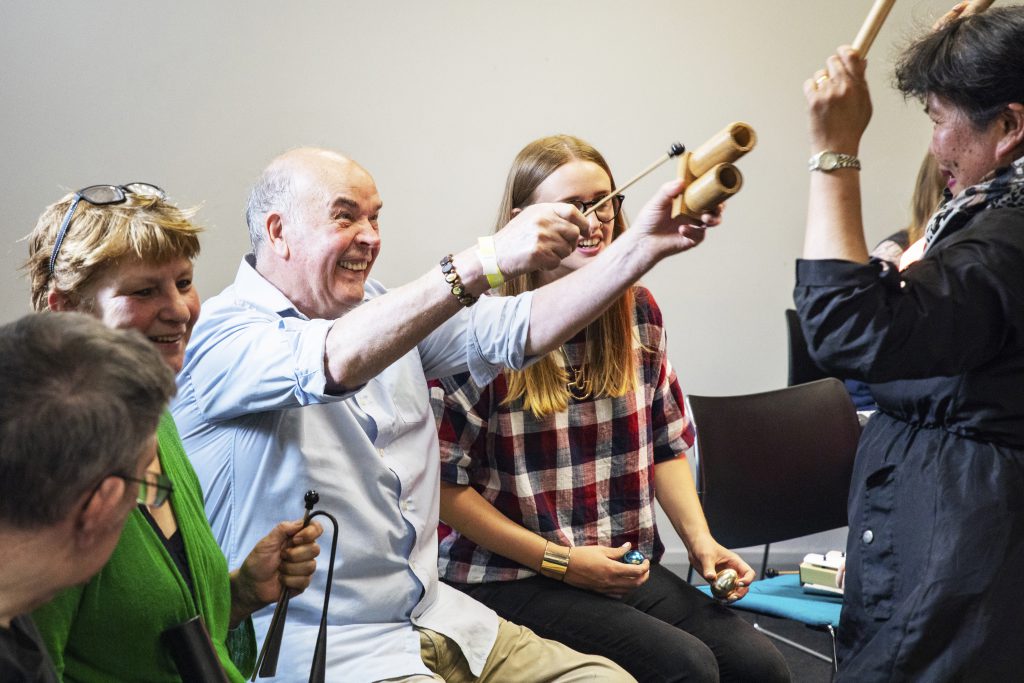 For the past eight years, the Manchester Camerata Orchestra has been bringing music, improvisation and joy into the lives and hearts of care home residents, via its award-winning Music in Mind (MiM) project. Its nine musicians and two music therapists have been delivering 15 weekly sessions in 20 local residential homes. This was until March. The lockdown brought these session to a close, much to the dismay of everyone involved. However, they are now piloting a remote version of Music in Mind. This offers backing tracks, Zoom feedback, extra activities and mentoring, so that care staff can continue the vital, interactive work that hasn't been possible since early this year.
"This package has come at the right time. I had run out of ideas. Some residents were deteriorating. But now, using MiM percussion instruments we can accompany the Camerata's recordings – their jigs, rock'n'roll and tangos. Everyone's spirits, including mine, have been lifted. Whenever a face lights up, whenever someone who rarely gets involved joins in the music, when families say we've improved the quality of life of their loved one, the feeling we get is unbelievable," says Sykes.

Karen Sykes – Activities Coordinator, MiM
MiM is not just a matter of mental stimulation for people with memory loss. It is also about the enjoyment of music. Each home's activity leaders have been adapting the remote project, and checking in online for live feedback and advice. Some sessions are one-to-one in the resident's own room, but socially distanced group sessions are set up where permissible.
Not only are these sessions invaluable for residents, but taking responsibility for musical activities has improved the confidence of care staff also. It is not necessary for care workers to have the musical skills of the professional therapists and musicians. MiM is not about performing, entertaining, or practicing to hone technical skills. It is about the response of residents to the music, through a sound, finger tap, nod, or perhaps a smile.
MiM and Dementia
The real strength of this project lies in its instant impact on those with dementia. With many care homes closed to visitors during lockdown, residents have been deprived of family contact. Music can be a lifeline. In 2018, Camerata-funded research by Robyn Dowlen at Manchester University found an increase in the social, communication and musical skills of 90% of its participants. It also found a decrease in their anxiety, agitation and repetitive behaviours. Relationships and moods improved, too, often resulting in adjustments to medication.
Click here to read one of our previous articles on music and dementia.
"Music in Mind is about making a difference where it's needed most – with carers and in care homes. The musical and human skills of our region's fantastic musicians have made this all possible."

Bob Riley, CEO of Camerata
The Future of MiM
There are hopes that a positive legacy from COVID will be that future MiM projects will blend live and online training, allowing the project to expand its reach beyond Manchester. To find out more about this initiative, or to make a donation to ensure that these invaluable session continue, click here.
Source: Fay Wertheimer for The Guardian